Richards to open first series vs. Red Sox in '15
The Red Sox welcome the Angels to Fenway Park on Friday night in an MLB Network Showcase game, which features the revolutionary tracking technology of Statcast™. The opener of the three-game series begins at 7:10 p.m. ET and marks the first meeting of the season between these teams.

The Angels went 5-2 against the Sox in 2014, including a four-game sweep in Boston, and have won 16 of their last 21 games against the club.

Halos ace Garrett Richards (3-2, 2.29 ERA) goes up against Red Sox righty Rick Porcello (4-2, 4.26 ERA). Richards comes in having thrown five consecutive quality starts, while Porcello has gone 3-0 with a 2.84 ERA across his last five outings.

Boston is banking on the return of two key hitters in time for the series. The club expects to have Pablo Sandoval back in its starting lineup Friday. The third baseman struck out as a pinch-hitter against the Rangers on Thursday, his first game action since taking a pitch to the knee on Tuesday. Outfielder Shane Victorino, who did not start Thursday due to calf soreness, could also be made available over the weekend.

Three things to know about this game:

• Richards will be pitching in Fenway for the first time since he suffered a season-ending patella tendon tear on Aug. 20. He has allowed a career seven runs over four innings pitched in the park.

• Halos sluggers Mike Trout and Albert Pujols have historically bested Porcello in their matchups. Trout is 5-for-15 lifetime against the right-hander, while Pujols has gone 4-for-13 with two doubles since 2012.

• With Victorino's status in doubt, Daniel Nava could see more time in right field for the Red Sox -- even with the Angels trotting out a pair of left-handed starters this weekend. Nava batted right-handed and went 1-for-2 against southpaw Wandy Rodriguez on Thursday, despite entering the game with only three at-bats against lefties this year.

"It's hard to give you a real gut read on [Nava facing lefties]," manager John Farrell said. "Even [Wednesday] with a lefty [reliever] coming in, we pinch-hit for him. Going back to what they showed in Spring Training, he was comfortable, seeing the ball well from the left on left side."

Alec Shirkey is an associate reporter for MLB.com. This story was not subject to the approval of Major League Baseball or its clubs.
Pujols relieved wrist is bruised, not broken
TORONTO -- Albert Pujols thought for sure he was headed to the disabled list when he arrived at a local hospital late Wednesday night and saw the inside of his left hand swell up like a balloon, a result of the mid-90s fastball he absorbed a few minutes earlier.

But a CT scan ruled out a fracture, revealing only a bruise, and Pujols breathed a huge sigh of relief.

"My hand swelled up twice as much yesterday," Pujols said. "I couldn't feel my fingers. That's the whole reason I came out of the game. I couldn't grip the bat."

About half the swelling had subsided by Thursday afternoon, but Pujols had a hard time gripping the bat, so Angels manager Mike Scioscia kept him out of the lineup for the finale of a four-game series at Rogers Centre. He hopes to return on Friday, when the Angels open up a weekend series at Fenway Park.

"I could've gone out there and played today," Pujols said, "but one day won't hurt it. If I feel good in less than 24 hours, I'll play tomorrow. Hopefully I'll feel, not 100 percent, but good enough to play where I can swing the bat."

Pujols is off to a slow start, batting .231 with seven homers and 15 RBIs in his first 38 games. But the Angels' struggling offense -- 29th in the Majors in runs per game, 30th in OPS -- can't afford to lose anyone for an extended period of time right now, especially its No. 3 hitter.

Pujols got plunked by Drew Hutchison in the fourth inning and immediately figured he'd be coming out of the game. The 35-year-old first baseman ran the bases -- and let out his anger on a late slide into second base -- then stayed in for defense in the bottom half and couldn't properly squeeze the glove while catching a throw on a double-play ball.

So Marc Krauss replaced Pujols as a pinch-hitter in the top of the fifth, then won the game with a two-run double two innings later.

Pujols is thankful the hit by pitch didn't affect the area where he suffered a fractured left wrist in June 2011, an injury that kept him out a couple of weeks, but occurred along the upper part of his forearm.

"My strength is there, but because it's so swollen, I can't grip the bottom part of my bat," said Pujols, who had his left hand heavily wrapped. "You can be sore in your hamstring or your leg, but if it's your hand and you can't swing the bat, it's hard. I don't want to put myself in that situation. If it was Game 7 of the World Series, yeah, but we still have a long season."

Alden Gonzalez is a reporter for MLB.com. Read his blog, Gonzo and "The Show", follow him on Twitter @Alden_Gonzalez and listen to his podcast. This story was not subject to the approval of Major League Baseball or its clubs.
By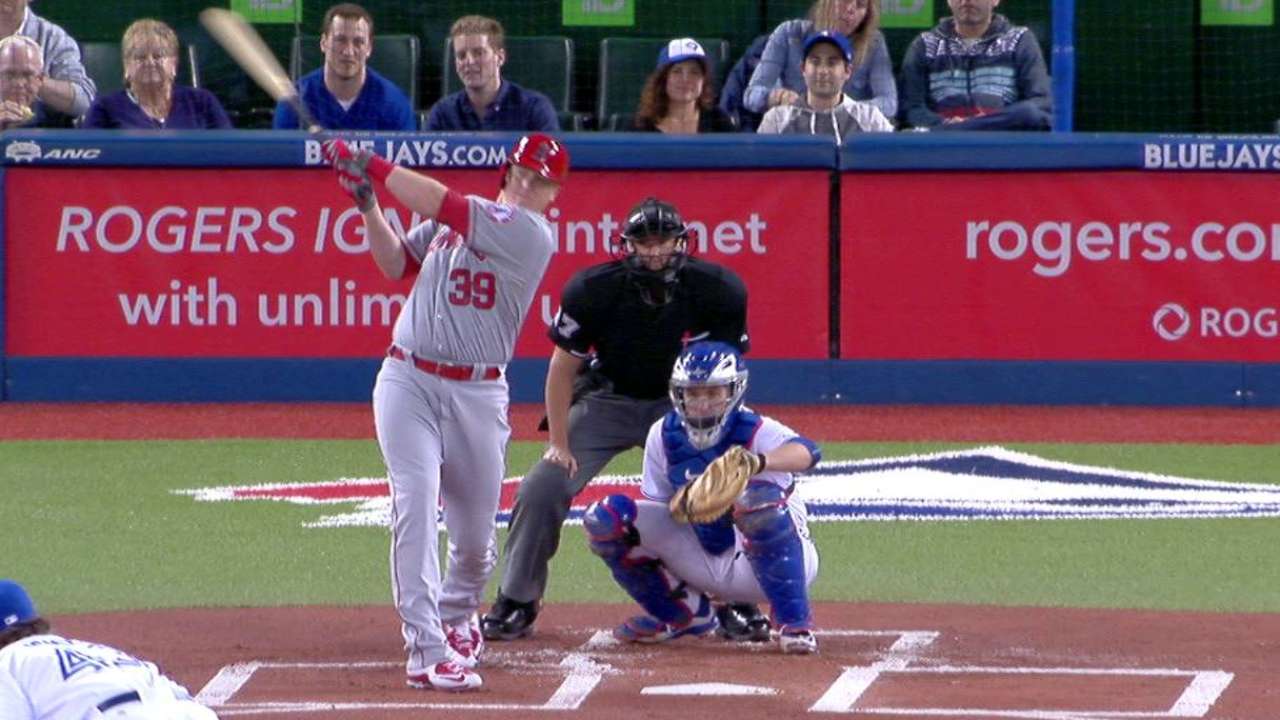 Angels unable to pick up shaky Shoemaker
By Gregor Chisholm and Alden Gonzalez / MLB.com | May 21st, 2015
TORONTO -- R.A. Dickey picked up his first complete game of the year while Edwin Encarnacion and Danny Valencia each homered in the Blue Jays' 8-4 victory over the Angels on Thursday night at Rogers Centre. Dickey allowed a first-inning homer to Marc Krauss, but he settled down after that and enjoyed one of his best starts of the season.
He limited the Angels to five hits and two walks and, along the way, recorded a season-high seven strikeouts. The pitching line is somewhat misleading because Los Angeles added a pair of runs with two outs in the ninth when the game was well in hand.
"We've been waiting for one of those," Blue Jays manager John Gibbons said.
"In the big leagues nowadays, especially in this park, a great offensive park, complete games are tough to come by. But Dickey was outstanding." Gibbons on win over the Angels Gibbons on win over the Angels 5/21/15: Toronto Blue Jays manager John Gibbons talks about the team's 8-4 win over the Angels Jose Bautista had a pair of RBIs and Ryan Goins went 2-for-3 with a double and a pair of runs scored for Toronto.
The Blue Jays did all of their damage against right-hander Matt Shoemaker, who allowed eight runs -- seven earned -- on eight hits and two walks with four strikeouts over six-plus innings. Mike Trout went 2-for-3 with two runs scored and David Freese added a late two-run homer for the Angels in a losing effort.
Recently on The Angels Broadcast