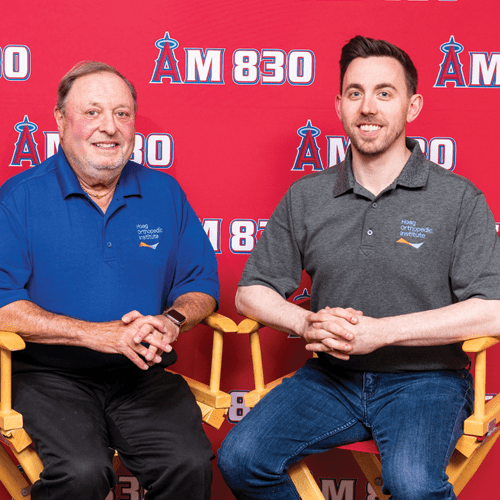 Doctor in the Dugout

Listen to Doctor in the Dugout Saturday afternoons from 12pm – 1pm.
Doctor in the Dugout is a one hour show hosted by Dr. Alan Beyer and Dr. Jonathan Kaplan of the Hoag Orthopedic Institute. Featuring the Doctors' distinctive wit and keen insights on sports, Doctor in the Dugout provides an entertaining twist on sports medicine-related topics and current injury reports, and features special guests and more.
In addition to baseball news, the program covers a variety of current events in the world of sports and sports medicine. Dr. Beyer and Dr. Kaplan answer questions sent in by email and fields calls from listeners.
Doctor In The Dugout Schedule
| Day | Date | Time | Guest(s) |
| --- | --- | --- | --- |
| Saturday | 5/21/22 | 12:00-1:00 PM | Jim Abbott – Friend of the show and former left-handed pitcher for the Angels. |
| Saturday | 5/28/22 | 12:00-1:00 PM | Heather Hardy – Two-time WBC Champion and Everlast boxer. Heather is a seasoned veteran in the ring, and she also works as a personal trainer in Brooklyn, New York. She can personally attest to the pressures of successfully competing at the highest level, and with her years of experience in the fitness industry, she can speak to the importance of both mental and physical health in professional sports. |
| Saturday | 6/4/22 | 12:00-1:00 PM | Hank Azaria – Actor, comedian and producer. He is known for voicing many characters in The Simpsons, as well as playing the lead role in IFC's Brockmire. |
Alan H. Beyer, M.D., F.A.C.S. is a board-certified orthopedic surgeon specializing in sports medicine, arthroscopic surgery of the knee, and total knee replacement. Dr. Beyer graduated from Georgetown University School of Medicine. During his residency at the Hospital for Joint Diseases in New York, he became the Chief Resident of Orthopedics and completed a sports medicine fellowship at the Kerlan-Jobe Orthopedic Clinic. His passion for sports influenced his decision to pursue this specialty and thus in a vocation where preserving an active lifestyle is a key focus.
Dr. Jonathan Kaplan is a board-certified orthopedic surgeon at Hoag Orthopedic Institute. He is fellowship trained to treat patients with foot and ankle injuries and conditions. Dr. Kaplan completed his orthopedic surgery residency at the Los Angeles County/University of Southern California Medical Center and is currently a partner at the Orthopaedic Specialty Institute in Orange, California. He is on the forefront of minimally invasive bunion correction, arthritis treatment, and deformity correction, not only as a clinician, but also as an instructor in these techniques.
March 26
Marques Ogden- Former NFL player who is now an inspirational keynote speaker, best-selling author, business coach and podcast co-host (The Lev & Marques Show). He played in the NFL for five years, and his brother (Jonathan Ogden), who played for the Ravens from 1996 to 2007, was inducted into the NFL Hall of Fame in 2013.