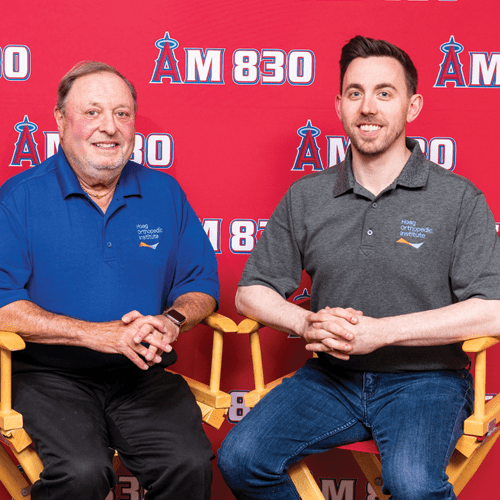 Doctor in the Dugout

Listen to Doctor in the Dugout Saturday afternoons from 12pm – 1pm.
Doctor in the Dugout is a one hour show hosted by Dr. Alan Beyer and Dr. Jonathan Kaplan of the Hoag Orthopedic Institute. Featuring the Doctors' distinctive wit and keen insights on sports, Doctor in the Dugout provides an entertaining twist on sports medicine-related topics and current injury reports, and features special guests and more.
In addition to baseball news, the program covers a variety of current events in the world of sports and sports medicine. Dr. Beyer and Dr. Kaplan answer questions sent in by email and fields calls from listeners.
Doctor In The Dugout Schedule
| Day | Date | Time | Guest(s) |
| --- | --- | --- | --- |
| Saturday | 9/9/23 | 12:00-1:00 PM | Jay Brunetti – Director of Equipment Operations for the San Francisco 49ers. He is also an advisory board member for G8RSkin PPE, a specialized protective equipment designed to substantially reduce concussion risk in contact sports. |
| Saturday | 9/16/23 | 12:00-1:00 PM | Dr. Myra Trivellas – Sports Medicine orthopedic surgeon with Hoag Orthopedic Institute. |
| Saturday | TBD |  12:00-1:00 PM | TBD |
Alan H. Beyer, M.D., F.A.C.S. is a board-certified orthopedic surgeon specializing in sports medicine, arthroscopic surgery of the knee, and total knee replacement. Dr. Beyer graduated from Georgetown University School of Medicine. During his residency at the Hospital for Joint Diseases in New York, he became the Chief Resident of Orthopedics and completed a sports medicine fellowship at the Kerlan-Jobe Orthopedic Clinic. His passion for sports influenced his decision to pursue this specialty and thus in a vocation where preserving an active lifestyle is a key focus.
Dr. Jonathan Kaplan is a board-certified orthopedic surgeon at Hoag Orthopedic Institute. He is fellowship trained to treat patients with foot and ankle injuries and conditions. Dr. Kaplan completed his orthopedic surgery residency at the Los Angeles County/University of Southern California Medical Center and is currently a partner at the Orthopaedic Specialty Institute in Orange, California. He is on the forefront of minimally invasive bunion correction, arthritis treatment, and deformity correction, not only as a clinician, but also as an instructor in these techniques.