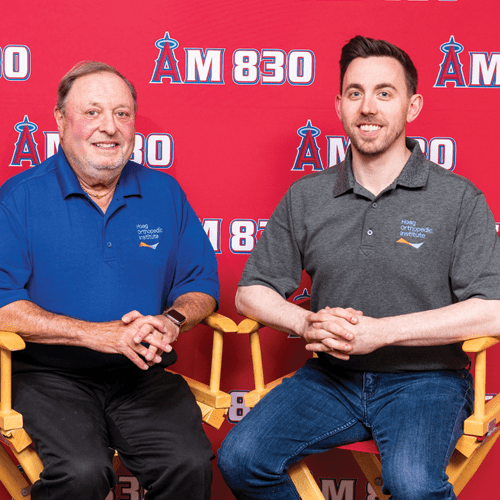 Doctor in the Dugout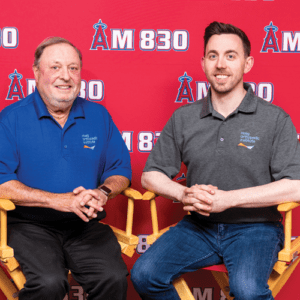 Listen to Doctor in the Dugout Saturday afternoons from 12pm – 1pm.
Doctor in the Dugout is a one hour show hosted by Dr. Alan Beyer and Dr. Jonathan Kaplan of the Hoag Orthopedic Institute. Featuring the Doctors' distinctive wit and keen insights on sports, Doctor in the Dugout provides an entertaining twist on sports medicine-related topics and current injury reports, and features special guests and more.
In addition to baseball news, the program covers a variety of current events in the world of sports and sports medicine. Dr. Beyer and Dr. Kaplan answer questions sent in by email and fields calls from listeners.
Doctor In The Dugout Schedule
| Day | Date | Time | Guest(s) |
| --- | --- | --- | --- |
| Saturday | 11/7/2020 | 12:00-1:00 PM | John Abdou and Larnie Boquiren – USA Water Polo chief high performance officer, John Abdou, and Women's National Team sports medicine manager, Larnie Boquiren, will be guests in this week's Doctor in the Dugout. |
| Saturday | 11/14/2020 | 12:00-1:00 PM | Dr. Brian Choi – New D.O. at Newport Orthopedic Institute specializing in sports and family medicine. |
| Saturday | 11/21/2020 | 12:00-1:00 PM | Tito Ortiz – Mixed martial artist who is currently signed to Combate Americas promotion and CEO of Punishment Athletics MMA equipment and clothing line. He known for his time with the UFC, where he was former Light Heavyweight Champion, having held the title from April 2000 to September 2003. |
| Saturday | 11/28/2020 | 12:00-1:00 PM | No Show (Thanksgiving) |
| Saturday | 12/5/2020 | 12:00-1:00 PM | Donald Driver – Former NFL Super Bowl Champion and All Time Leading Receiver in Packers 100-year history. After 14 years with the NFL, he founded Driven Elite, an elite fitness program that specializes in life-changing fitness, nutrition, and lifestyle programs. |
| Saturday | 12/12/2020 | 12:00-1:00 PM | Drs. James Caillouette, Robert Gorab, and Carlos Prietto – Orthopedic surgeons and friends of the show, Drs. Caillouette, Gorab and Prietto will be joining us this week for a special episode of Doctor in the Dugout. |
| Saturday | 12/19/2020 | 12:00-1:00 PM | TBA |
| Saturday | 12/26/2020 | 12:00-1:00 PM | No Show (Christmas) |
Alan H. Beyer, M.D., F.A.C.S. is a board-certified orthopedic surgeon specializing in sports medicine, arthroscopic surgery of the knee, and total knee replacement. Dr. Beyer graduated from Georgetown University School of Medicine. During his residency at the Hospital for Joint Diseases in New York, he became the Chief Resident of Orthopedics and completed a sports medicine fellowship at the Kerlan-Jobe Orthopedic Clinic. His passion for sports influenced his decision to pursue this specialty and thus in a vocation where preserving an active lifestyle is a key focus.
Dr. Jonathan Kaplan is a board-certified orthopedic surgeon at Hoag Orthopedic Institute. He is fellowship trained to treat patients with foot and ankle injuries and conditions. Dr. Kaplan completed his orthopedic surgery residency at the Los Angeles County/University of Southern California Medical Center and is currently a partner at the Orthopaedic Specialty Institute in Orange, California. He is on the forefront of minimally invasive bunion correction, arthritis treatment, and deformity correction, not only as a clinician, but also as an instructor in these techniques.