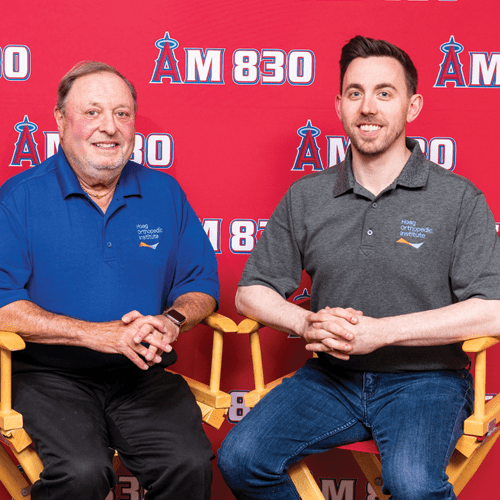 Doctor in the Dugout
Listen to Doctor in the Dugout Saturday afternoons from 12pm – 1pm.
Doctor in the Dugout is a one hour show hosted by Dr. Alan Beyer and Dr. Jonathan Kaplan of the Hoag Orthopedic Institute. Featuring the Doctors' distinctive wit and keen insights on sports, Doctor in the Dugout provides an entertaining twist on sports medicine-related topics and current injury reports, and features special guests and more.
In addition to baseball news, the program covers a variety of current events in the world of sports and sports medicine. Dr. Beyer and Dr. Kaplan answer questions sent in by email and fields calls from listeners.
Doctor In The Dugout Schedule
| Day | Date | Time | Guest(s) |
| --- | --- | --- | --- |
| Saturday | 9/12/2020 | 12:00-1:00 PM | Delvin Breaux – CFL cornerback for the Hamilton Tiger-Cats. Prior to his current career in the CFL, Delvin previously played in the NFL for the New Orleans Saints. |
| Saturday | 9/19/2020 | 12:00-1:00 PM | Oliver Wyss – Returning guest Oliver Wyss, president of soccer operations and general manager for the Orange County Soccer Club, will be joining us this week. |
| Saturday | 9/26/2020 | 12:00-1:00 PM | Prince Daniels Jr. – Former Baltimore Ravens running back turned author and entrepreneur. Prince currently runs "Game Beyond the Game," a company that helps athletes find their life's purpose after their professional careers as athletes. |
| Saturday | 10/3/2020 | 12:00-1:00 PM | Jim Palmer – Former professional baseball pitcher who played 19 years in MLB for the Baltimore Orioles. Palmer appeared in the postseason eight times and was a vital member of three World Series Champions, six AL pennant winners and seven Eastern Division titleholders. |
| Saturday | 3/10/2020 | 12:00-1:00 PM | Garrett Anderson – Former Angels left fielder who holds various Angels franchise records. A three-time All-Star, he helped lead the Angels to the 2002 World Series title, and was named Most Valuable Player of the 2004 All-Star Game. |
Alan H. Beyer, M.D., F.A.C.S. is a board-certified orthopedic surgeon specializing in sports medicine, arthroscopic surgery of the knee, and total knee replacement. Dr. Beyer graduated from Georgetown University School of Medicine. During his residency at the Hospital for Joint Diseases in New York, he became the Chief Resident of Orthopedics and completed a sports medicine fellowship at the Kerlan-Jobe Orthopedic Clinic. His passion for sports influenced his decision to pursue this specialty and thus in a vocation where preserving an active lifestyle is a key focus.
Dr. Jonathan Kaplan is a board-certified orthopedic surgeon at Hoag Orthopedic Institute. He is fellowship trained to treat patients with foot and ankle injuries and conditions. Dr. Kaplan completed his orthopedic surgery residency at the Los Angeles County/University of Southern California Medical Center and is currently a partner at the Orthopaedic Specialty Institute in Orange, California. He is on the forefront of minimally invasive bunion correction, arthritis treatment, and deformity correction, not only as a clinician, but also as an instructor in these techniques.